I didn't take any pictures during the last snow storm here in New Haven and I was determined to do so the next time we get snow.  We ended up getting a few inches of the white stuff today.  Armed with my warm snowboarding pants (I don't snowboard, I just happen to have these pants that my mom bought from the North Face outlet for like 30 bucks), a sweater, a softshell, and a down jacket, I ventured out into the snow.  I, of course, also brought a stripped down 5D and a 17-40L with me.
There weren't a lot of people out.  I saw two other people and their dogs in the park.  In fact, the first time I saw the second dog, I thought it was a coyote.  I don't even know if there are coyotes in the area.  It was just the first thing I thought.  The owner was much farther away, and wearing a green coat.  Probably a girl.
I'm not much of a taking pictures in the park kind of guy, but there was a lone tree that stood out.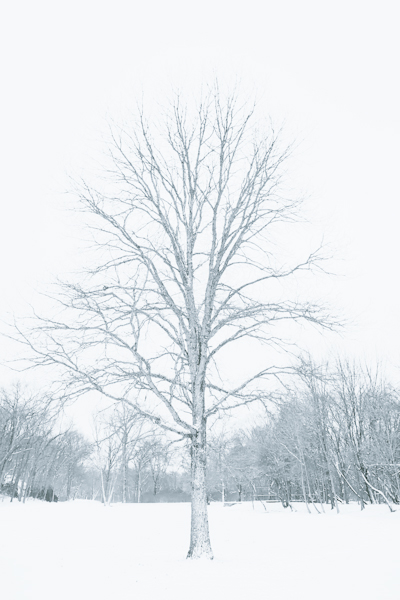 A couple times I ended up walking right into a frozen pond, either permanent or recently created through the snow melt from the last storm.  Unfortunately, I didn't sink in much, because that would've been a much better story.  The creeks (or are they called rivers?) weren't too much trouble, though I had considered wading in to get more interesting images.  Alas, I decided against it.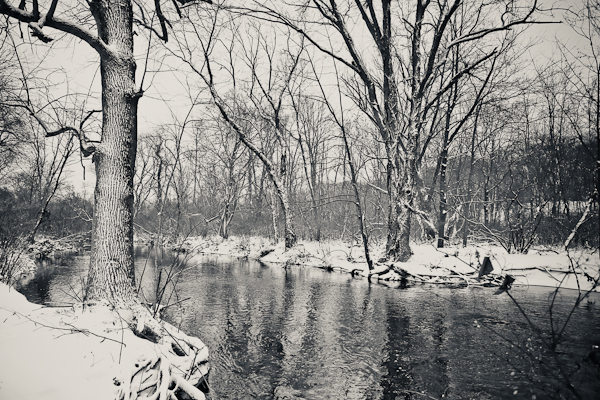 And no, I didn't take any pictures of the bridges, but here's a view from one of them.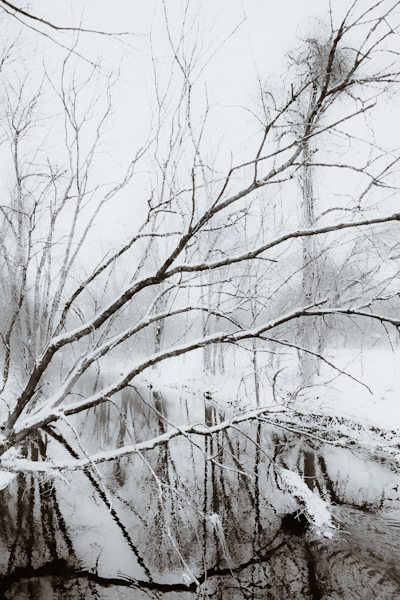 Oh, and a bit of advice that I did heed, if you go out taking pictures in the cold, place your camera into bag (preferably airtight) before entering you warm and humid home, lest moisture will condense on the insides of your gear.
Yep, that's all, folks!