Sara (my always lovely wife) and I decided it was time to take a vacation. My parents are in Southern California and we had not seen them in about two years, so we decided that our destination would be California. We left Connecticut on the last day of June, and we didn't return until July 15th. That's two excellent and sunfilled weeks in sunny California. Woo hoo!
My parents live in the southern portion of Los Angeles County, with great access to the many beaches of Orange County, so we stayed with them for a majority of the time we were out there. One of the first stops we made was Huntington Beach, where I've spent many summers in the water with my friend Dary, shown here: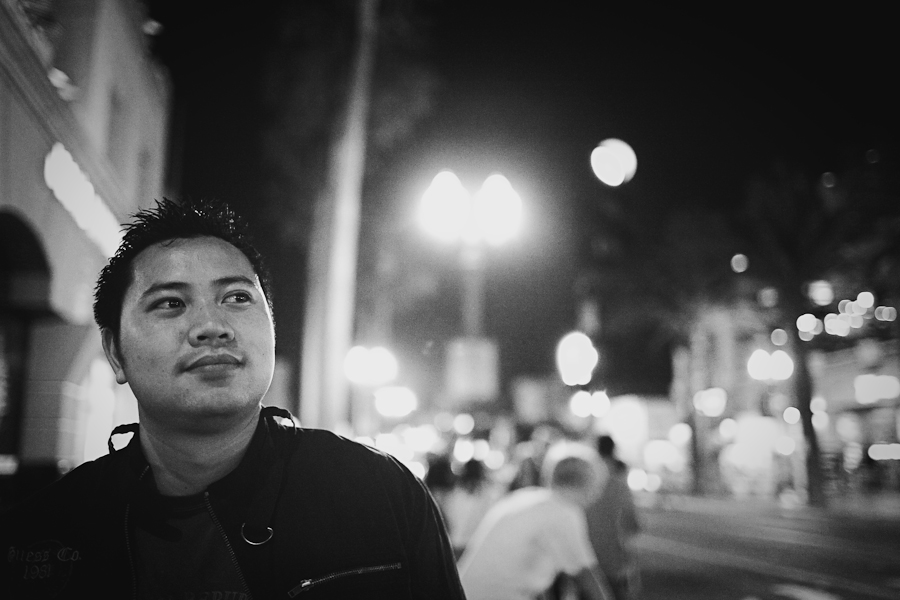 Huntington Beach, like most locales in California, is home to many colorful characters, including this…thing…I'm pretty sure they're all related somehow.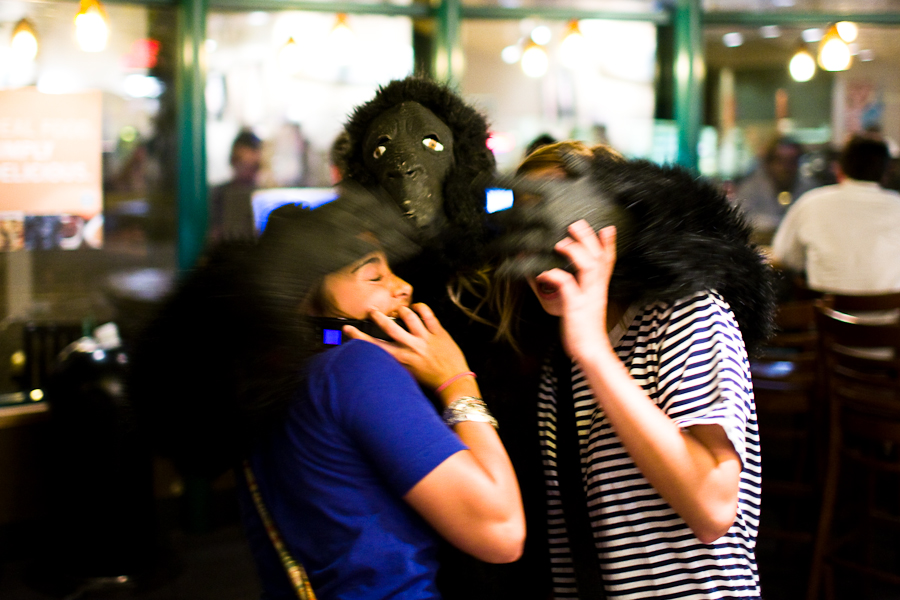 When I was still in college, I used to spend a lot of time driving down to Laguna Beach (you may remember the MTV reality show of the same name) in my Datsun 280Z.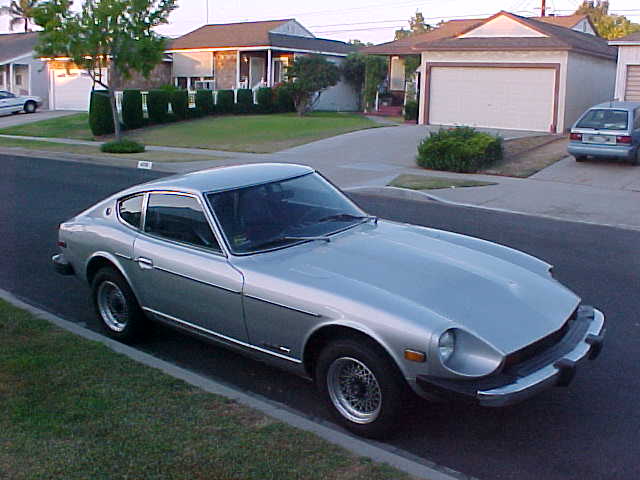 It was nothing short of a love/hate relationship. It didn't always start; it got 11 miles to the gallon; it was a green house inside with all that glass. Fortunately, it had a manual transmission; so much hilarity ensued when I had to constantly start the car by popping the clutch. Sometimes I'd ask friends to push the car while I pop the clutch in the car. Sometimes I'd push the car myself, getting it going as fast as possible before running up to the driver's side door and jumping in. One time I had the bright idea of pushing it down a hill myself…I never ran so fast in my life.
Well, Laguna Beach was definitely going to be another pit stop on this trip to California. It's just such a beautiful area. It was originally a haven for artists (some of them starving, I presume), but now it's an enclave for those who can afford to live there. Still beautiful, of course. It would not be the same driving the 40 miles south along the Pacific Coast Highway without the Z, but as luck would have it, I was able to rent the much more refined sibling of the original 240Z – the Nissan 350Z, for about two weeks, shown here in front of my parent's house.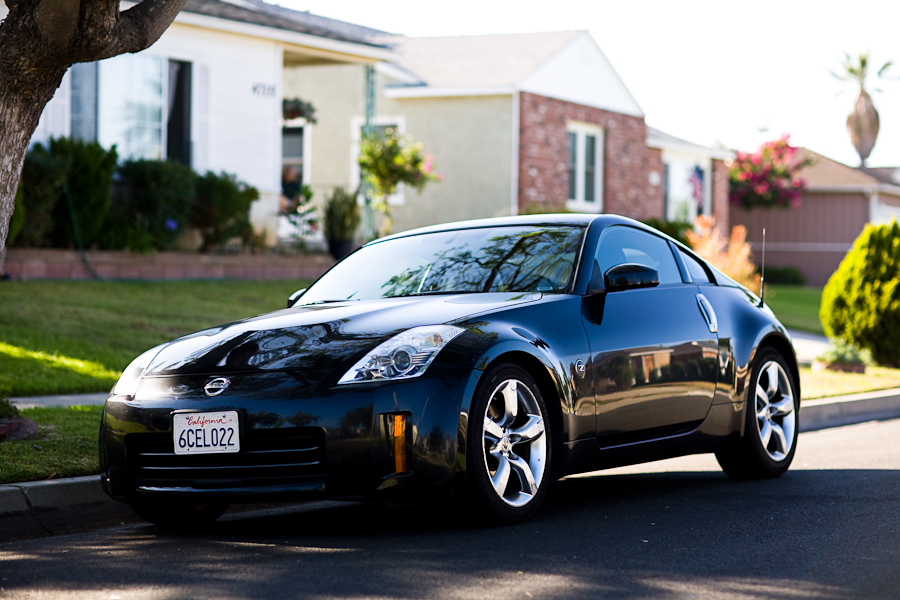 And of course, Laguna Beach.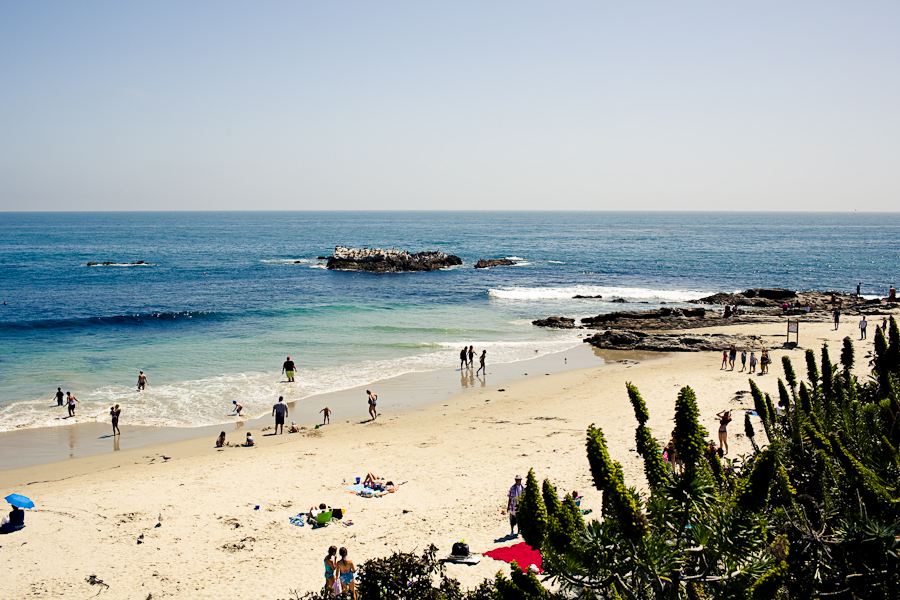 And Sara herself.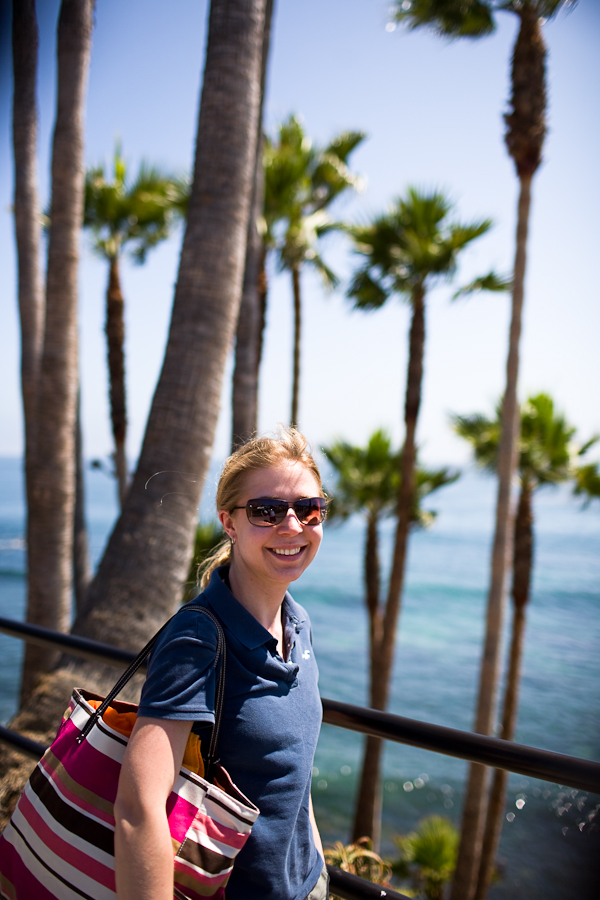 And the beginning of many self-shots….FAIL!!!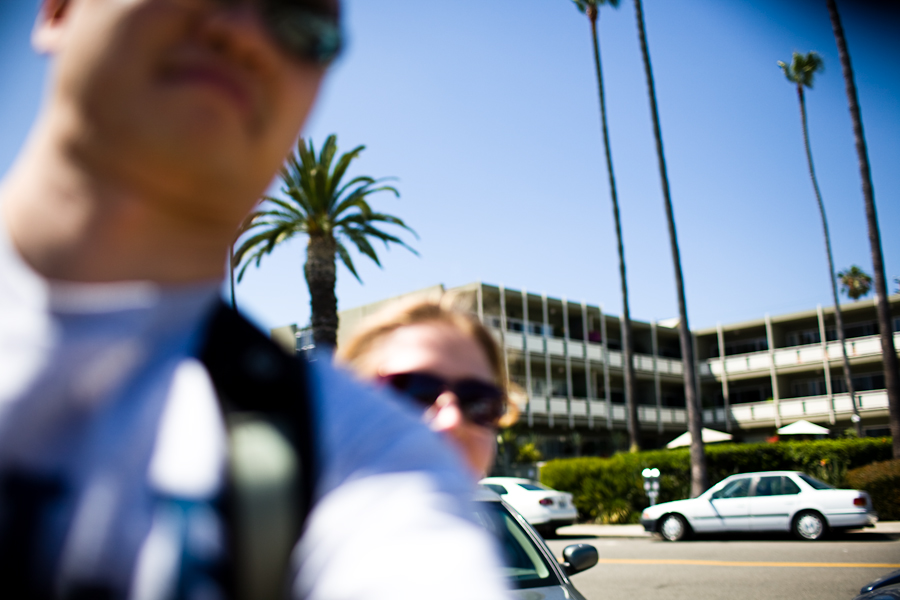 We drove through Huntington Beach again on the way home, and Sara saw something she hasn't seen before – kite boarders, so we made a quick stop.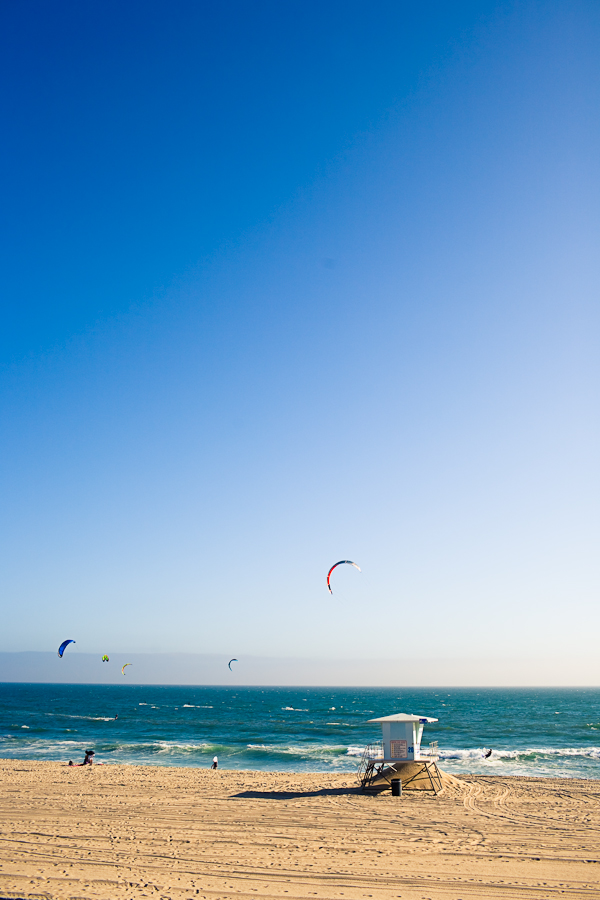 Another fun place to visit in Southern California is Santa Monica, home to the Santa Monica Pier. It is just south of Malibu. One of our favorite places is Third Street Promenade. We love it because of the many street performers. The whole avenue, which stretches several city blocks, is perpetually closed off to vehicle traffic. We found this Chinese man who was tossing stacks of bowls and catching them on his head.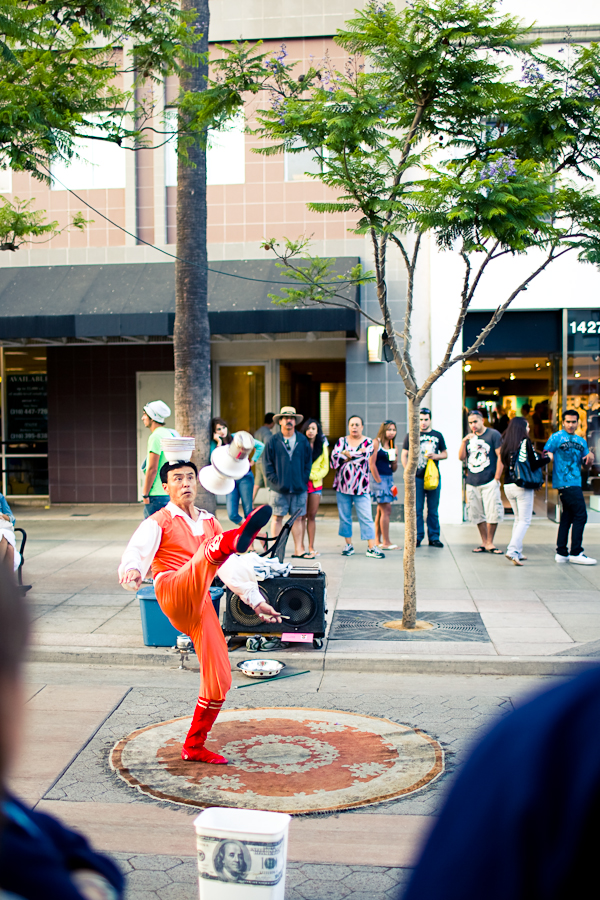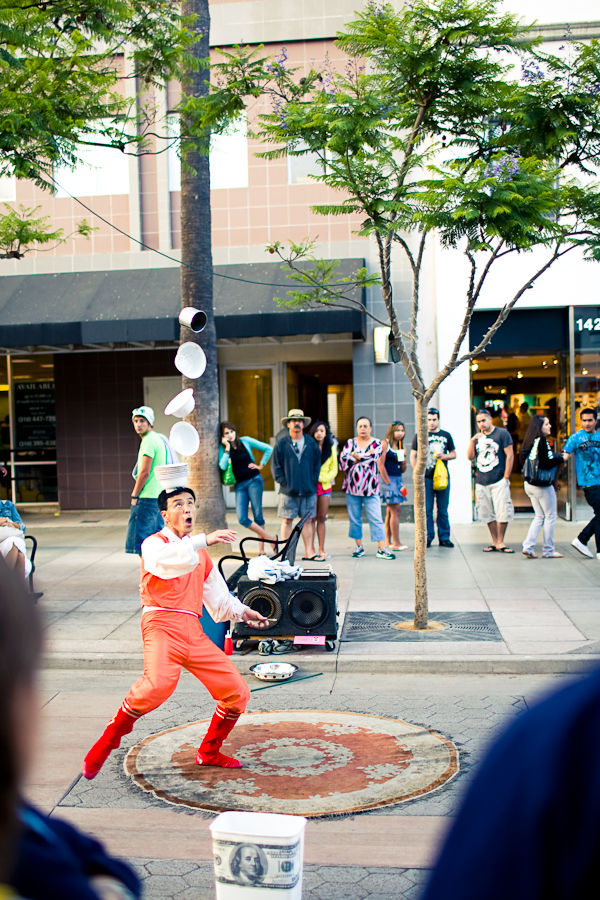 And this father and son gymnastic team from Russia, who were due to perform on America's Got Talent the week after.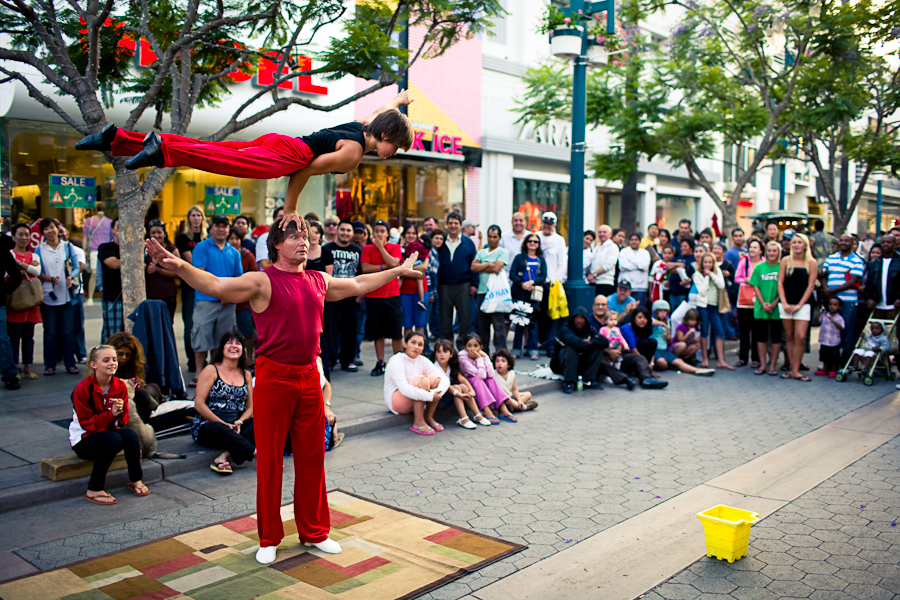 Another self shot in Santa Monica. :-p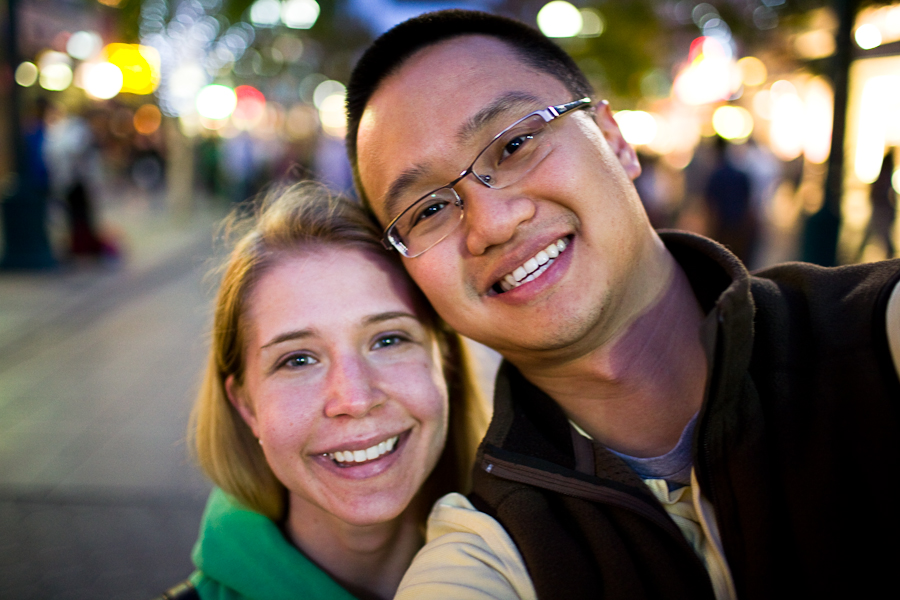 A day or two later was the 4th of July. We made the trek down to the ocean front in Long Beach to watch the fireworks at the Queen Mary. It was a clear and beautiful night and without a cloud in the sky. (Isn't that always the case in Southern California?) Here are a few pictures from the outing.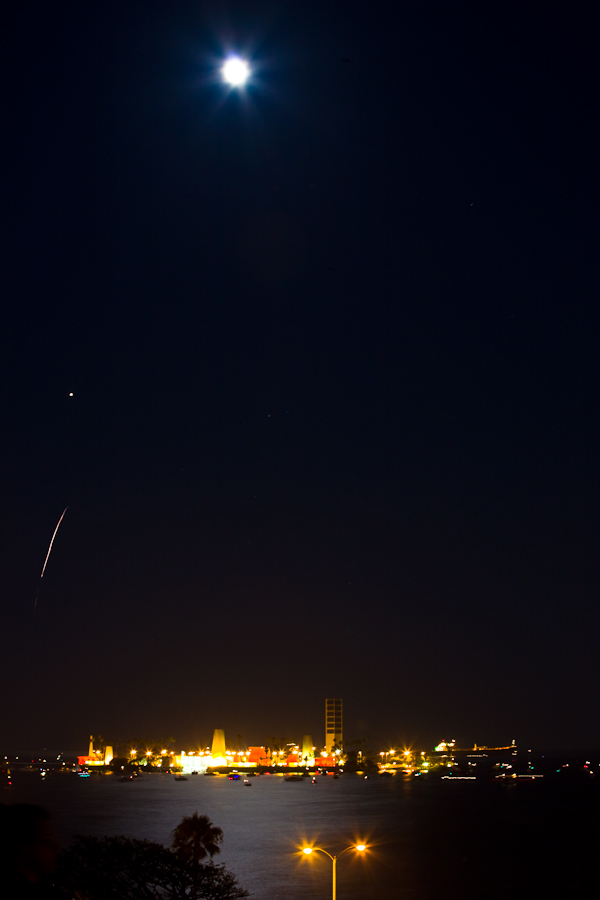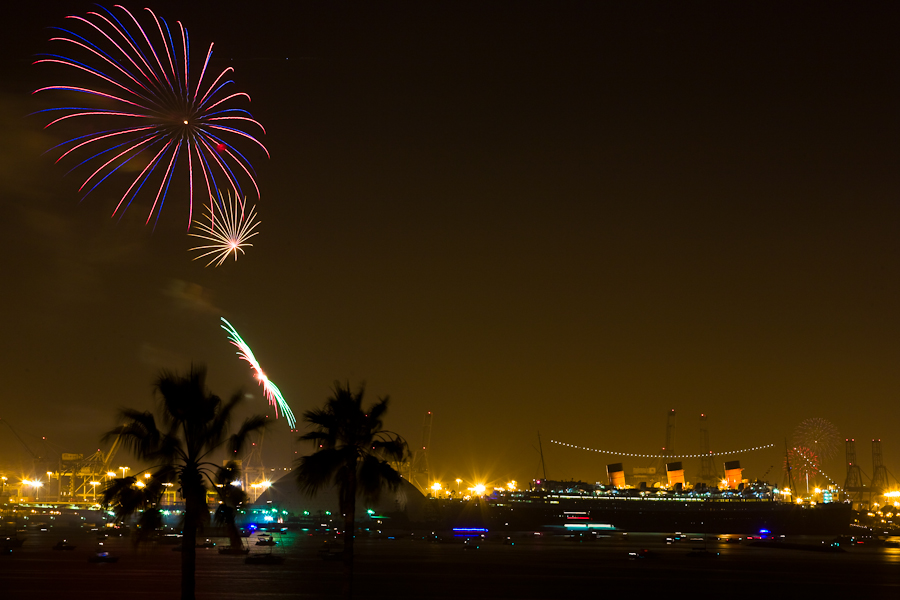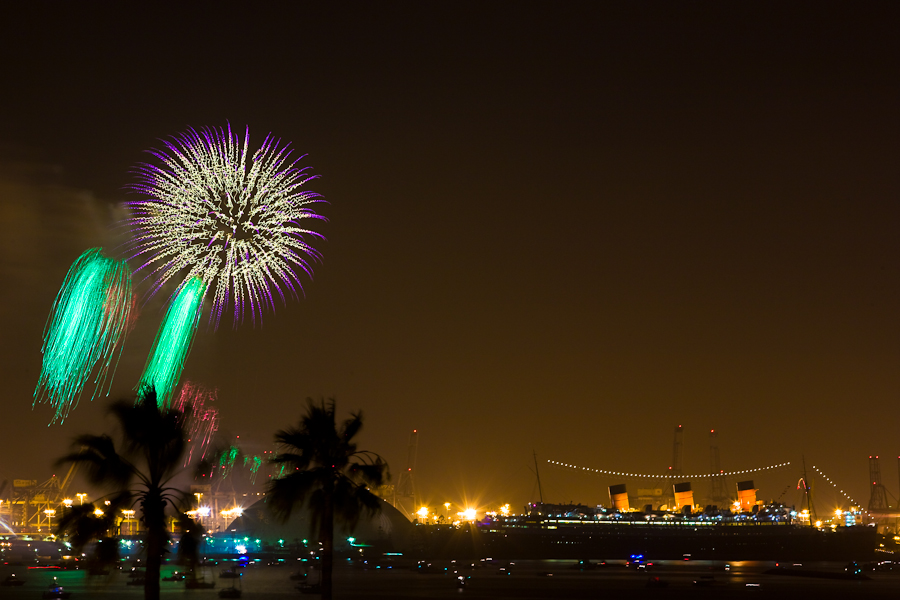 Our next stop in California was Napa Valley. We stayed in a more central location – Santa Rosa, CA, which allowed us to visit a few other wineries, including ones in Alexander Valley and the Russian River Valley, the latter of which turned out to be a beautiful drive as it wind its way west from the valley to the tall redwood groves and eventually to the seal. Simply wonderful.
One of the first wineries we visited was Mumm Napa, purveyor of sparking wine, where we sampled wine at our leisure on their outdoor terrace and took a tour on how sparking wine is made. Their bruts were yummy, to say the least.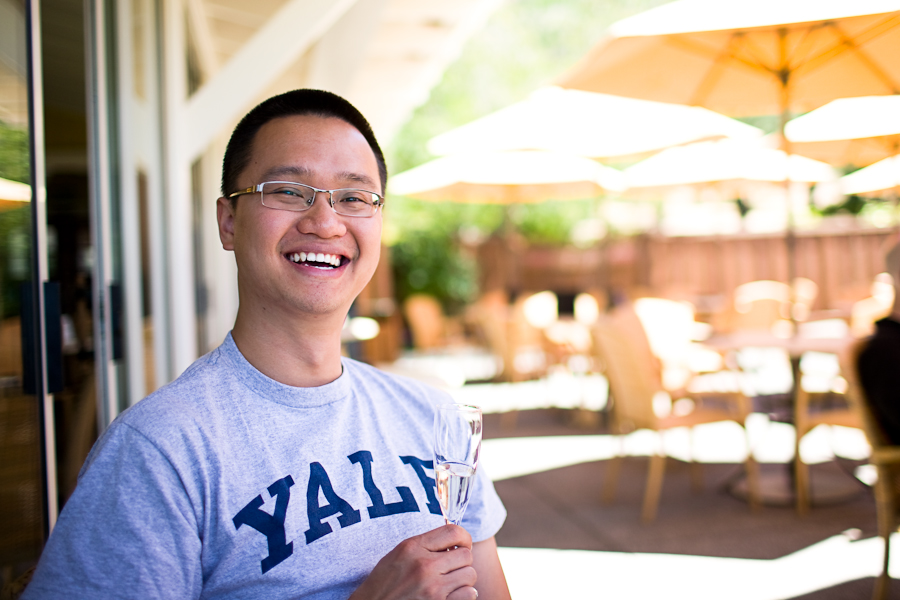 Self shot success!

Our next stop were the Del Dotto caves, where we took a 90 minute informative tour on their red wines, learning about the different types of oak and how the barrels are made and prepared. We also sampled 8 or 9 different wines right out of the barrels. We were in some sort of a cave that was dug into the hill. The coolest part was being able to toss unwanted wine in your glass directly on the walls – can't do that at home!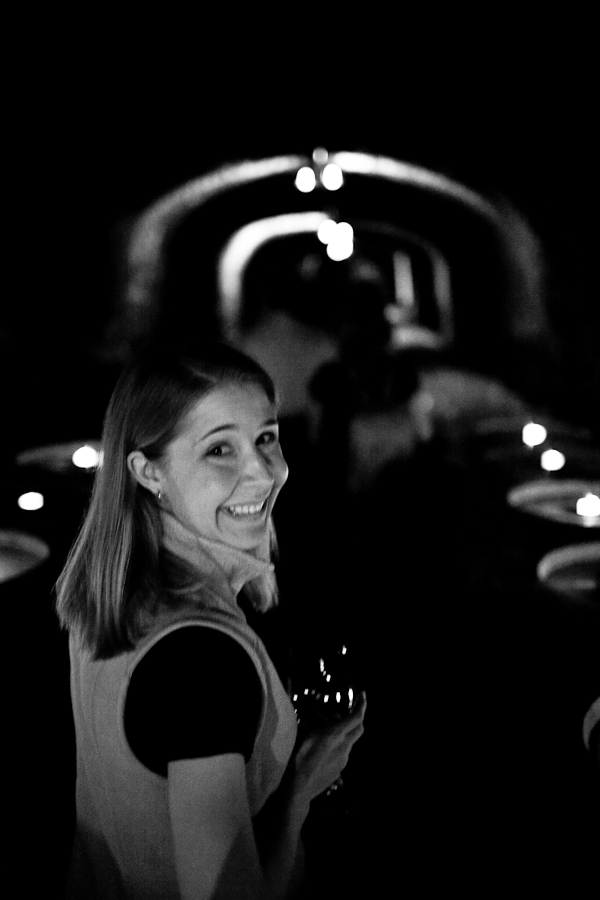 Our tour guide, Nick.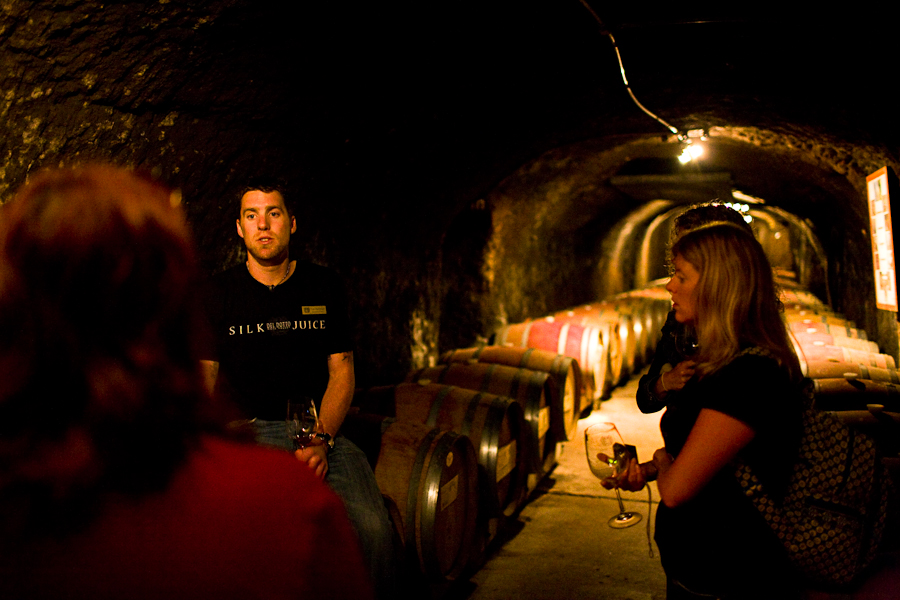 We stopped for dinner at this little place in Napa called The Pearl. where the prices were reasonable, the ingredients were fresh, and the food was as good as they looked.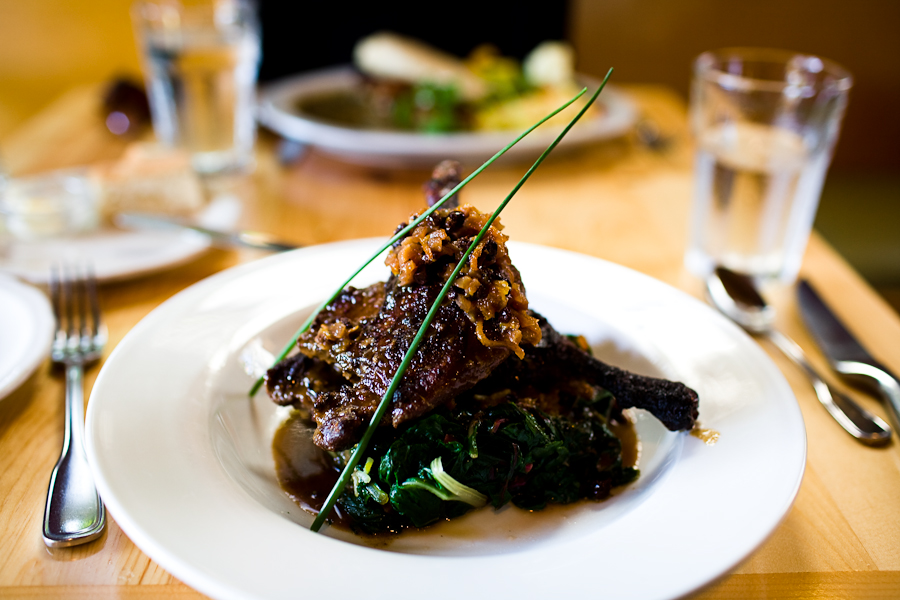 On the next day, we visited the Kendall-Jackson Wine Center, which is actually not in Napa Valley but just north of Santa Rosa. Their reserve wines were surprising good! I'm kind of bummed I didn't bring some home with me. The place is worth a visit if you're in the area. They have a beautiful garden on the grounds.
Main Building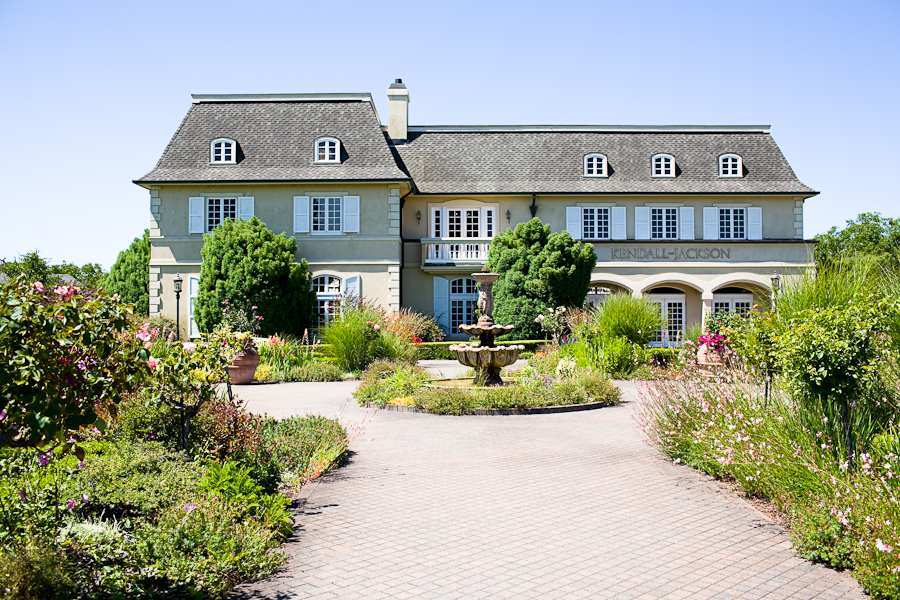 Semi Fail!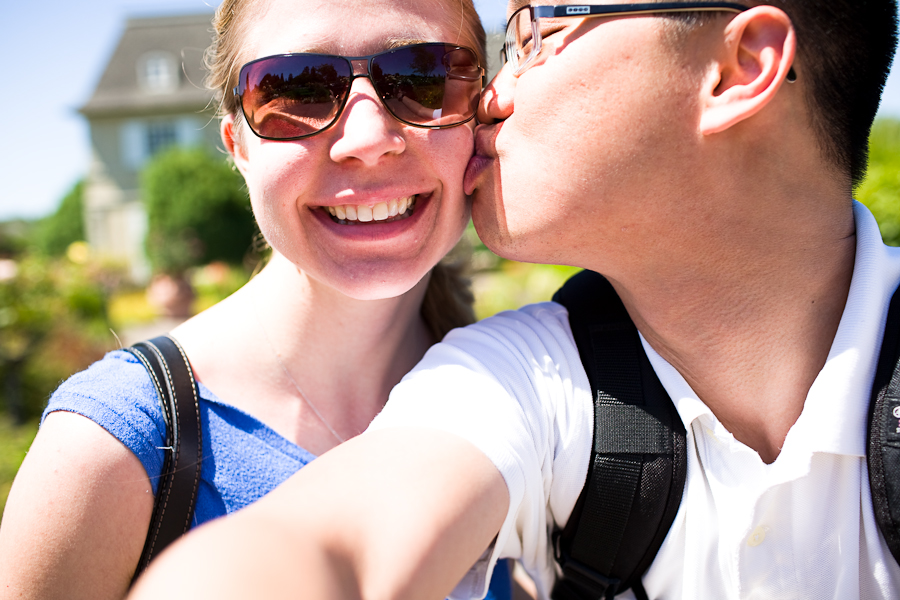 Flowers!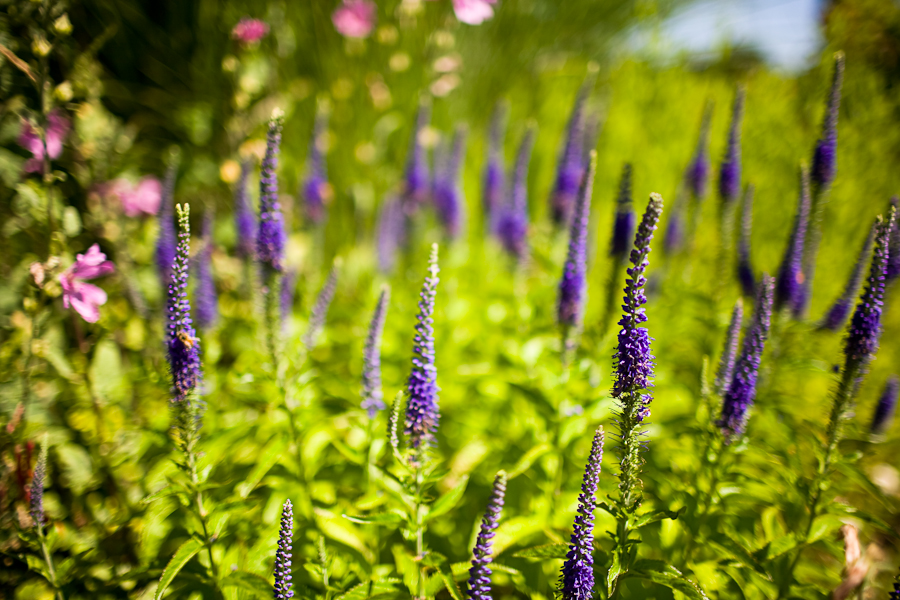 Happy Sara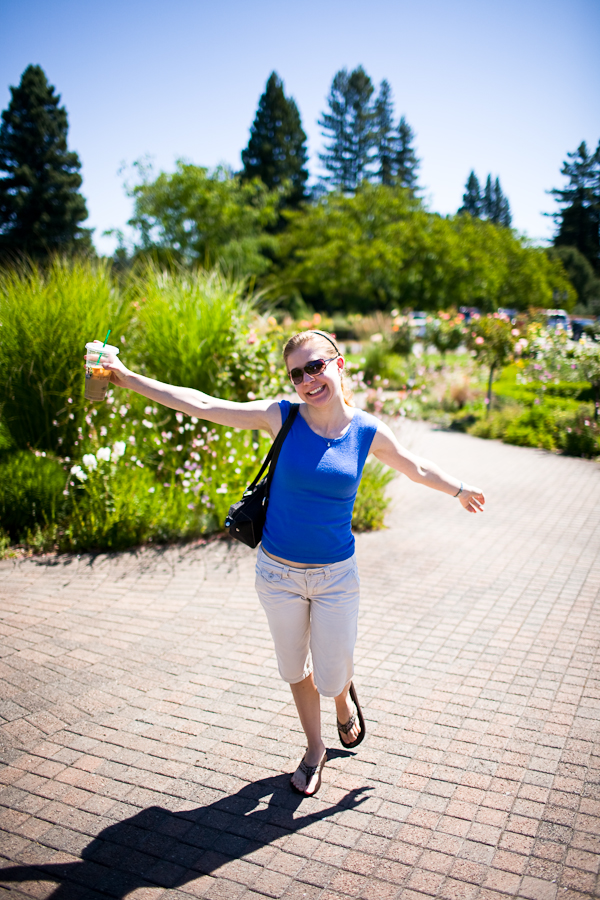 More Flowers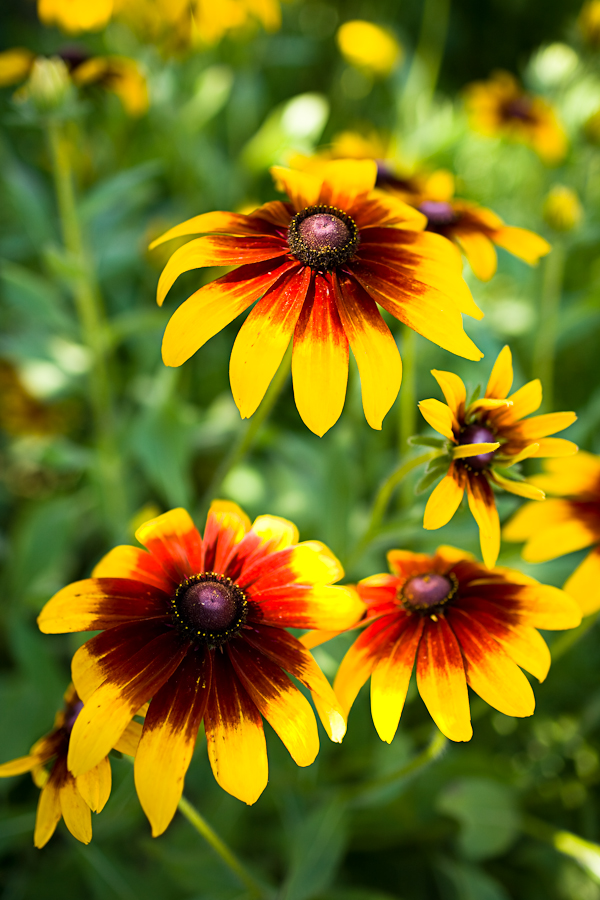 We then made our way to a Harvest Moon Estate & Winery, a small winery located in the Russian River Valley. I have to admit, I usually do not enjoy white wines, but I found a DRY Gewürztraminer. It was good enough to bring home. Service was definitely a top priority at Harvest Moon as well. Sorry, no pictures.
We then made the drive back into Napa Valley to visit Costello di Amorosa in Calistoga. Let me tell you – YOU HAVE TO SEE THIS PLACE! It's a castle!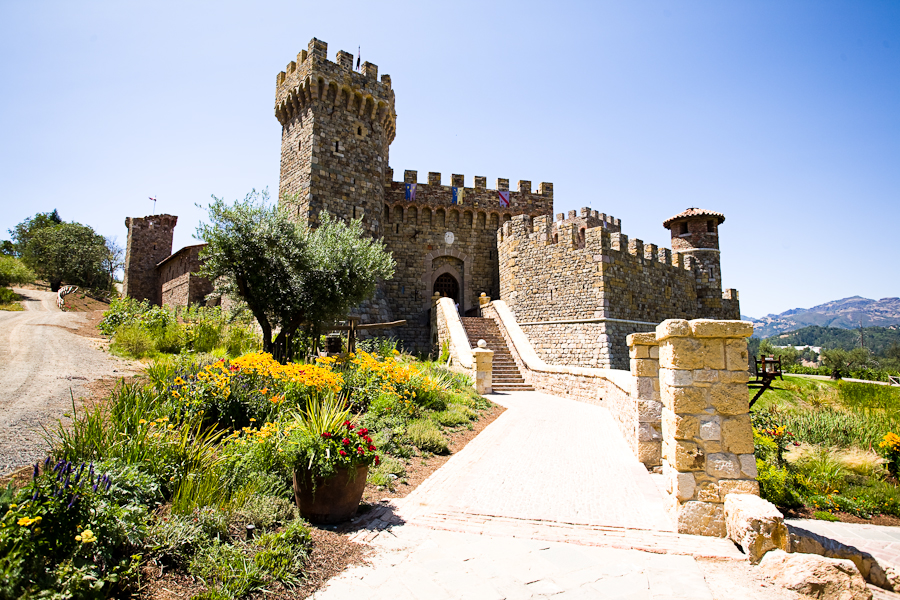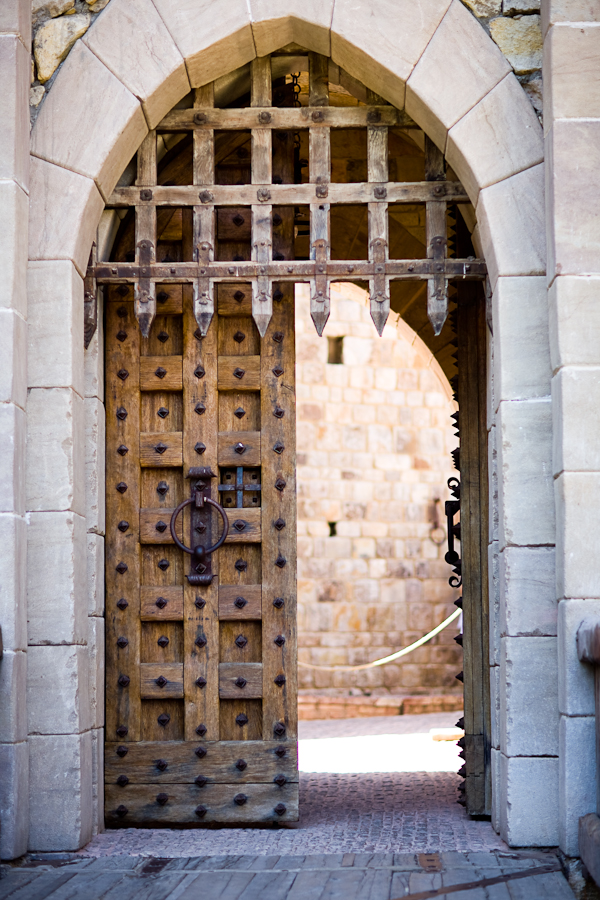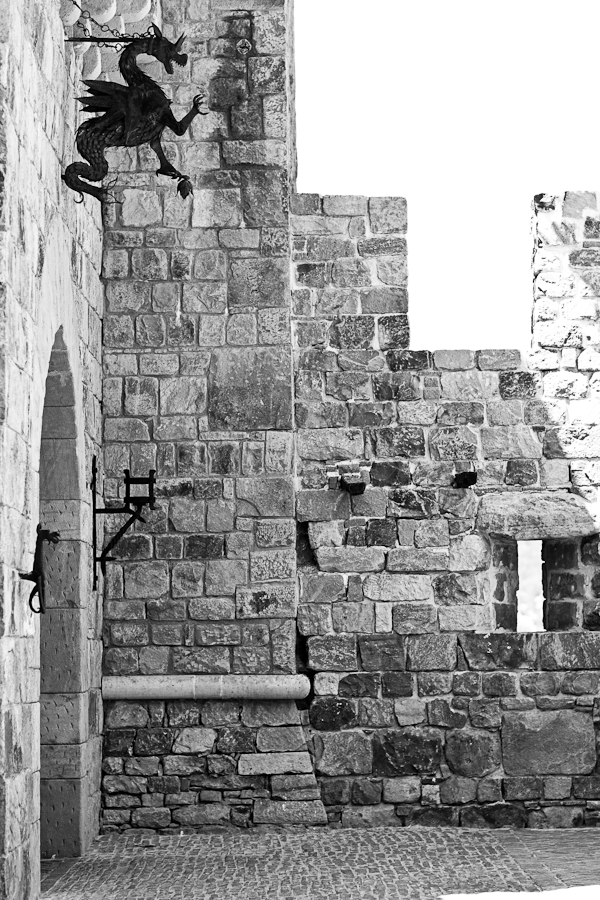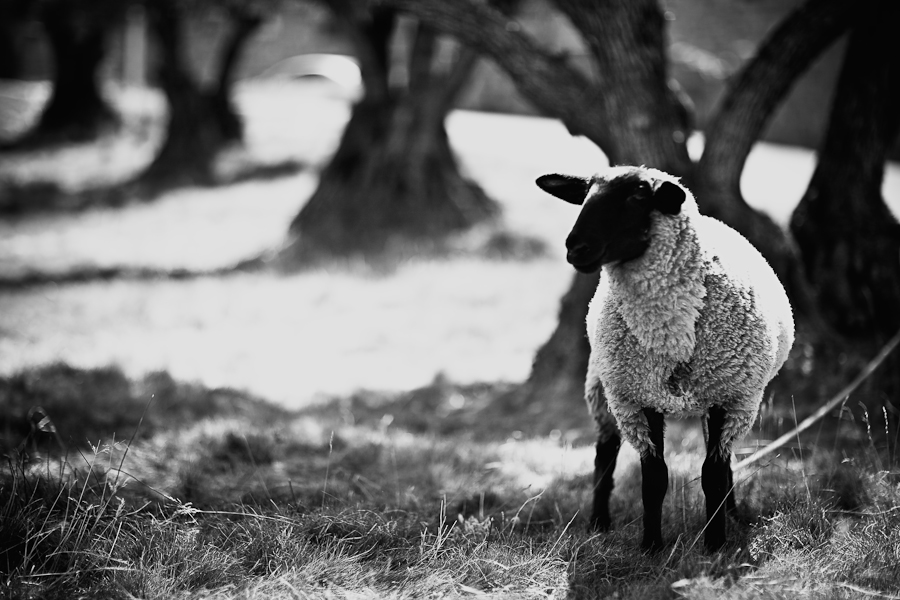 One of Sara's photos below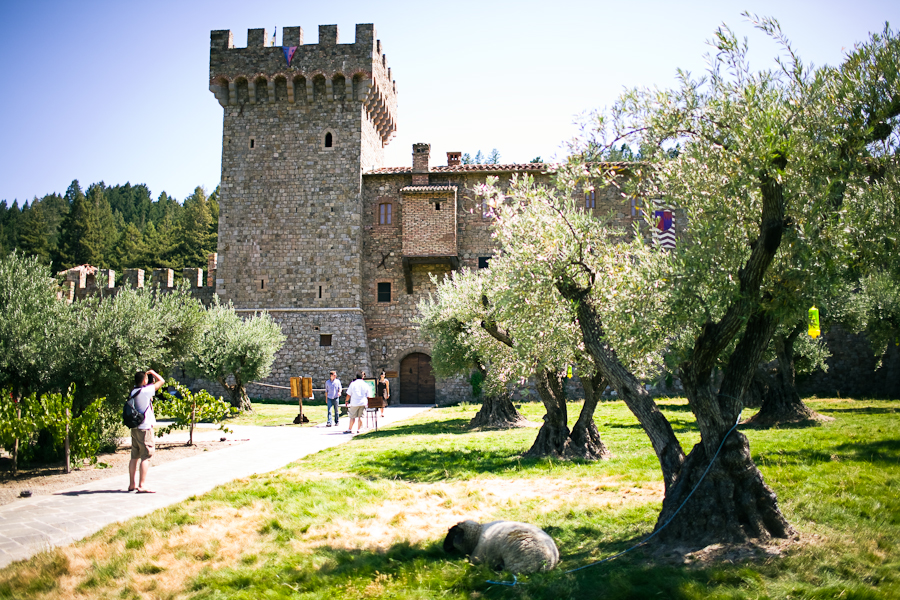 Sara's as well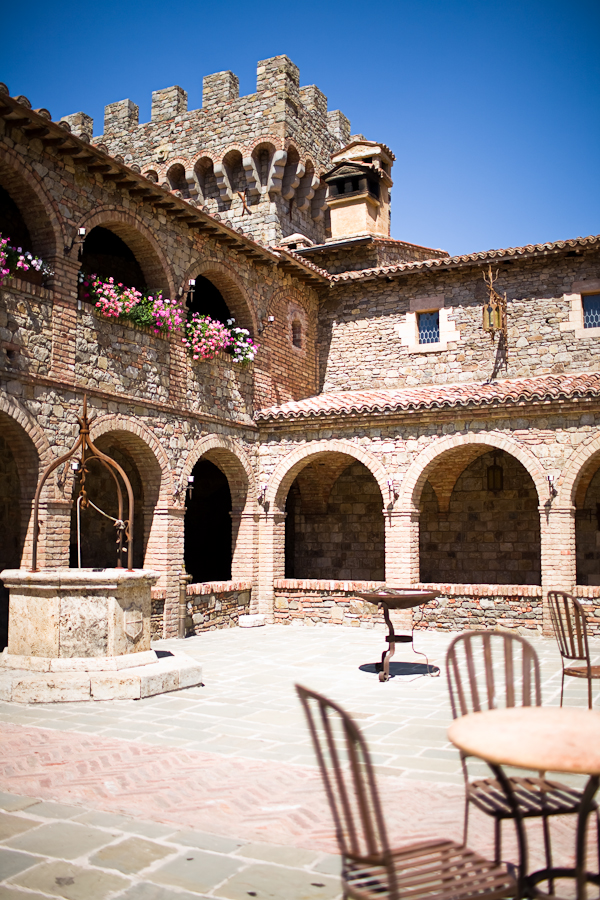 Sara's again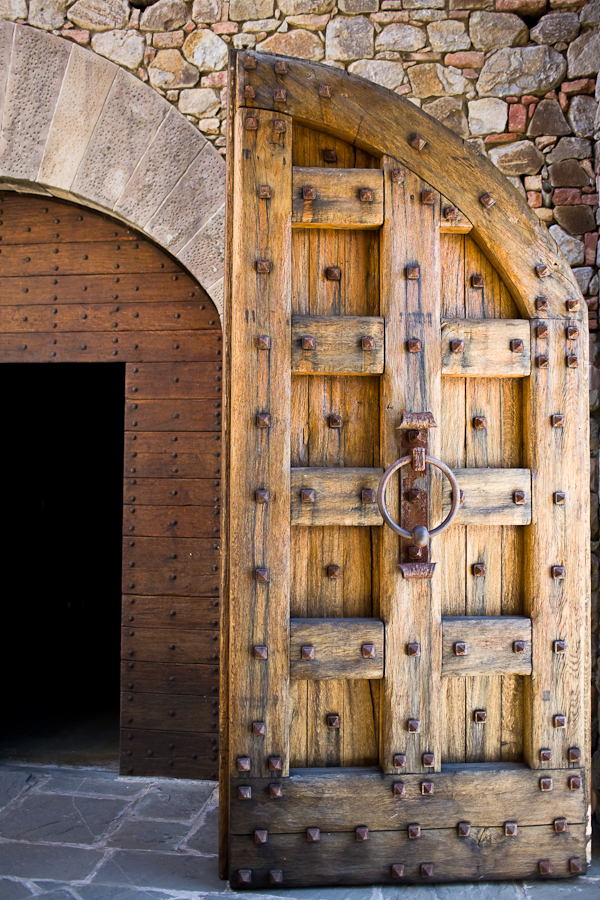 Mine again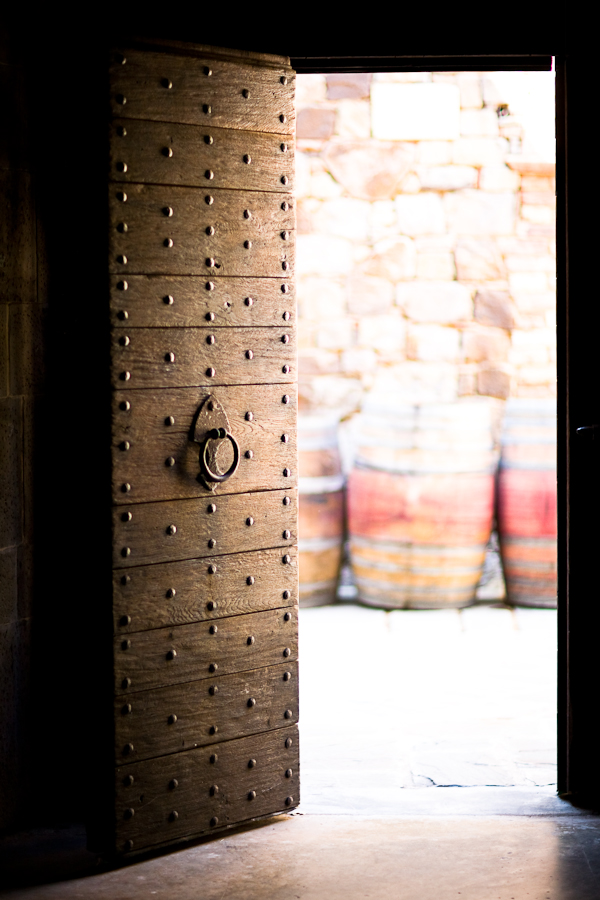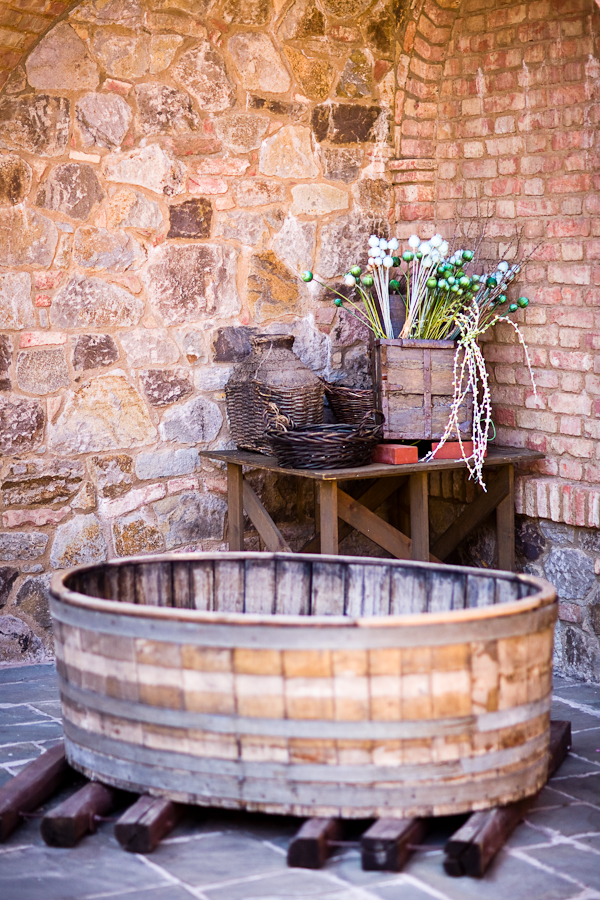 View from the castle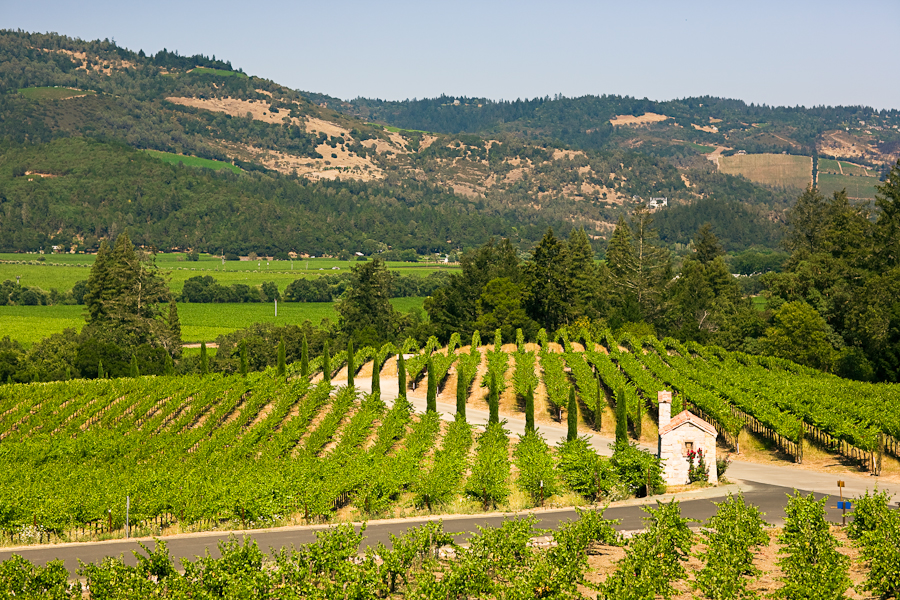 Afterward stopping off at another winery, we made the 60 mile trek to the coast. As I mentioned earlier, it was one of the more beautiful drives on our trip. We winded through the redwoods in the 350Z all the way to the coast so we can see the sunset. It was cold, but was worth the drive.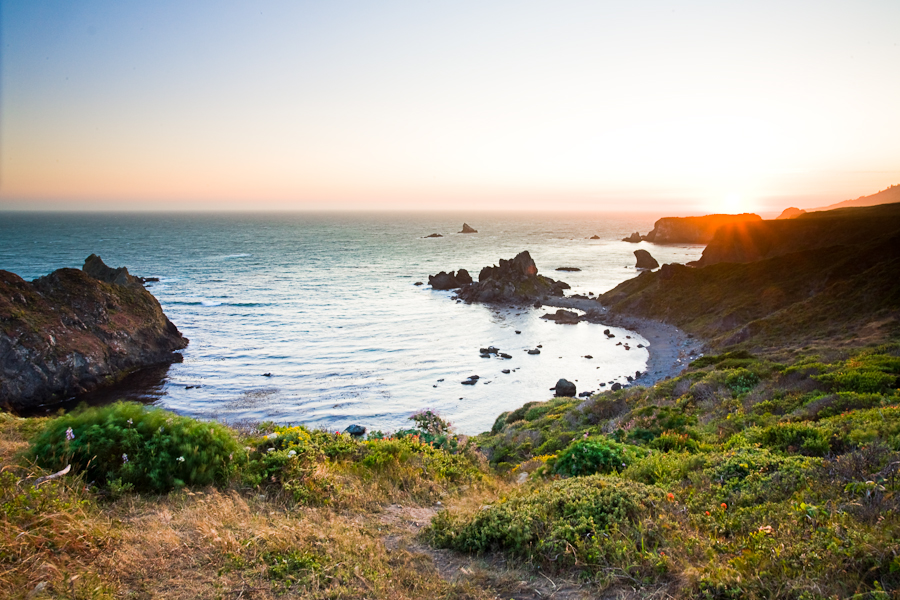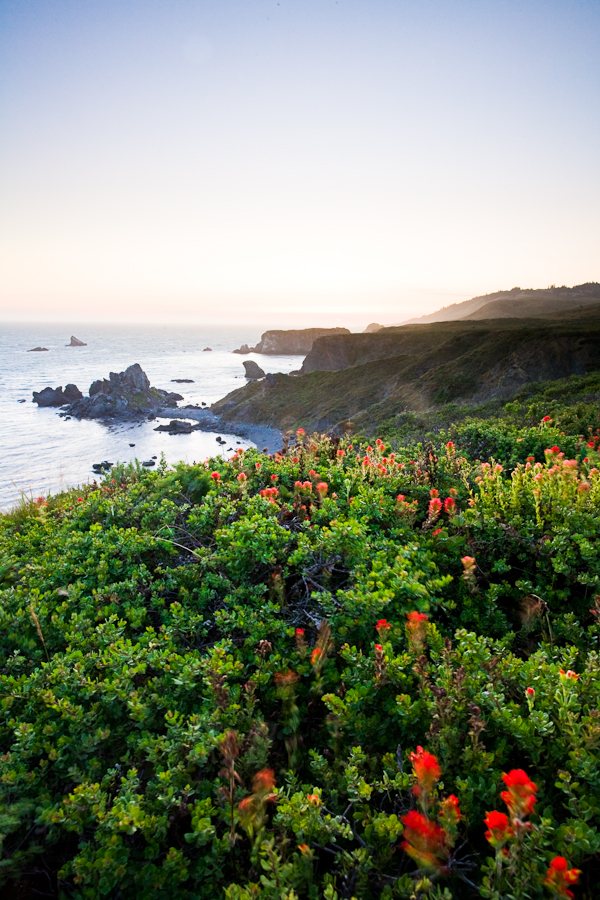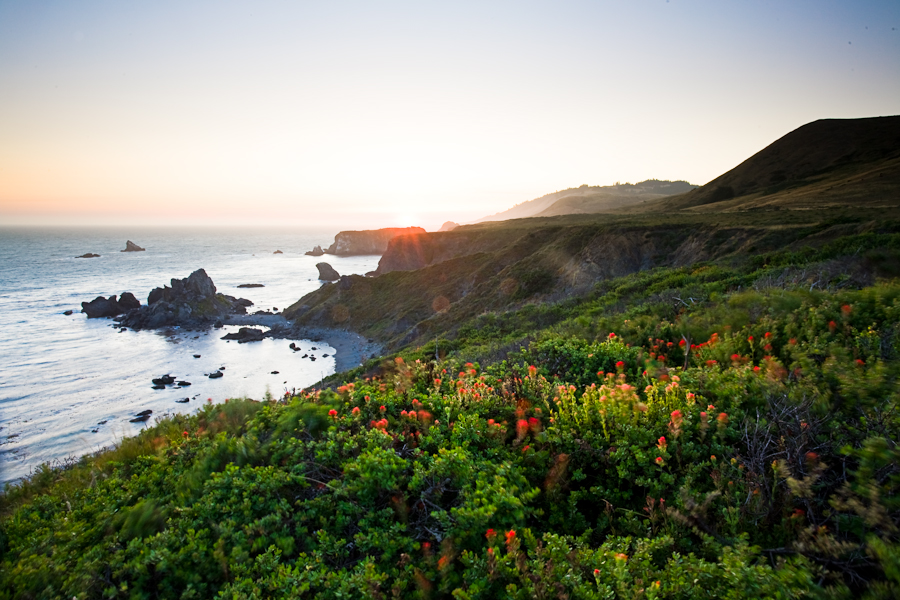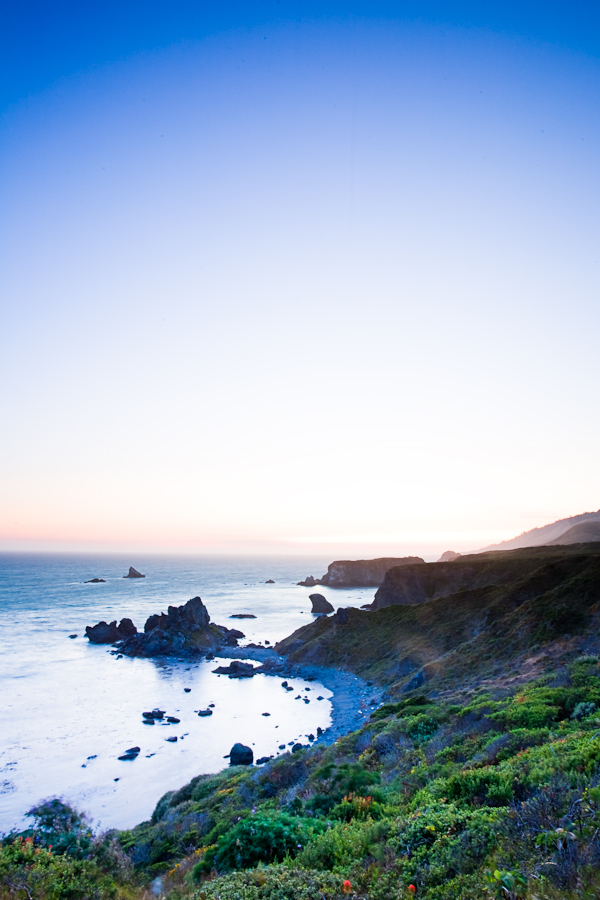 We had to drive home the next day, but we stopped in San Francisco. We headed that direction because we needed to stop in Chinatown to pick a few things up for my mom. We stopped on the hill heading to Marin Headlands. Sara hadn't seen the view of San Francisco and the Golden Gate Bridge from that angle before, so it was an important stop.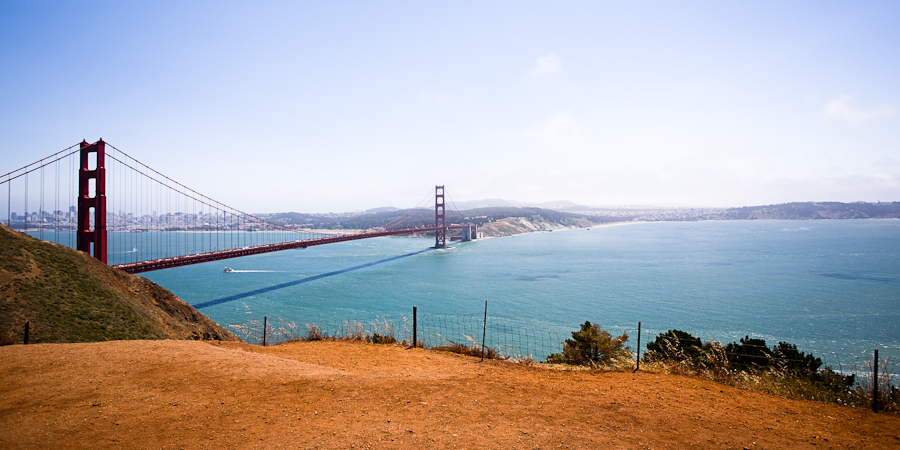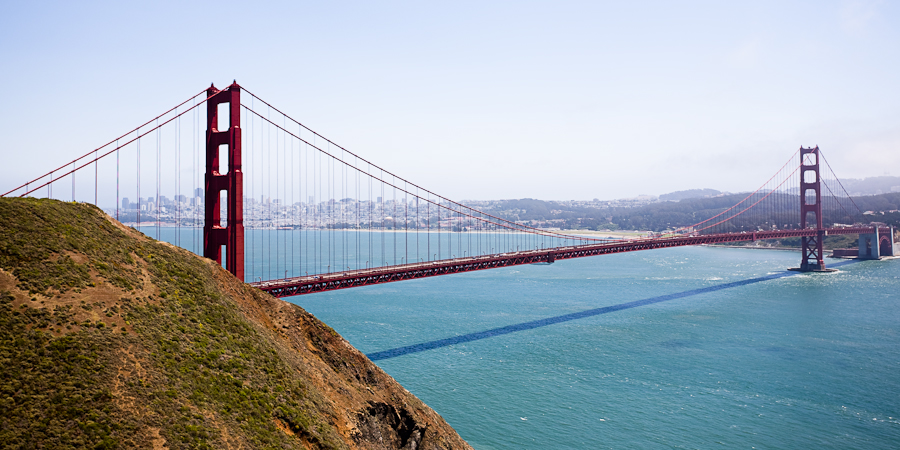 After making it back to Southern California, we spent a few more days with my family, at the beach, and eating a whole lot. Our last stop was La Jolla, near San Diego, pictured here. We didn't spend nearly as much time there as we hoped, but hey, it'll be an excuse to visit again!
Lovely La Jolla Cove, with snorkelers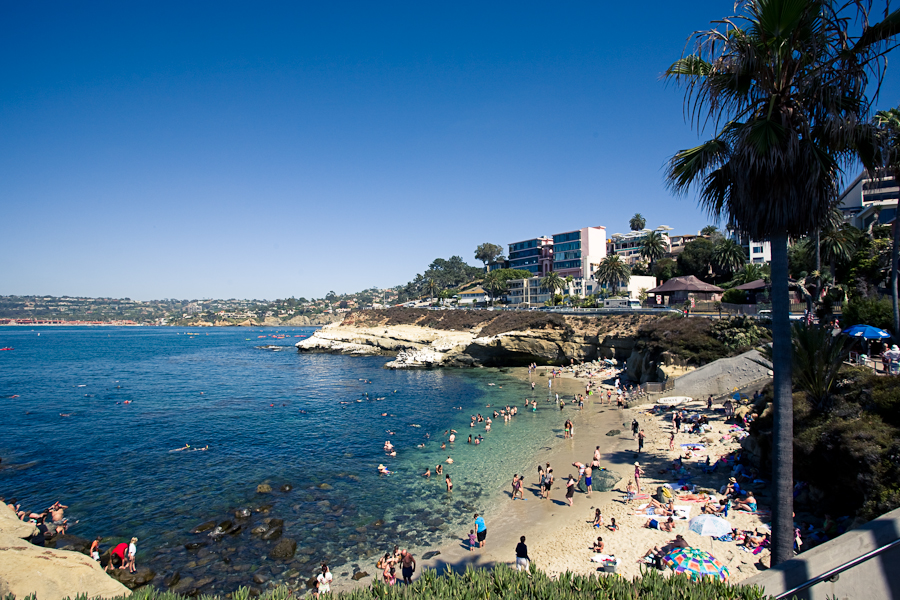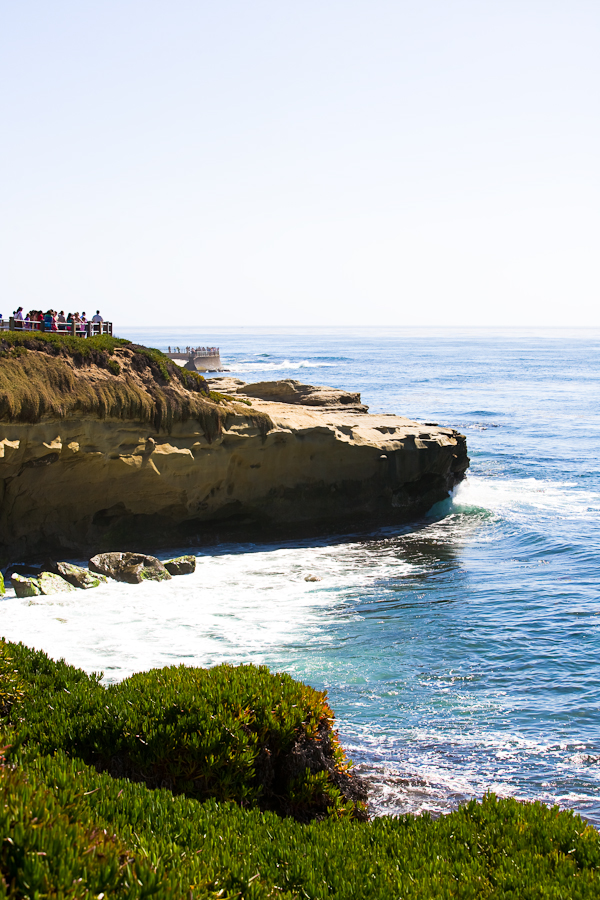 View of Chidlren's Pool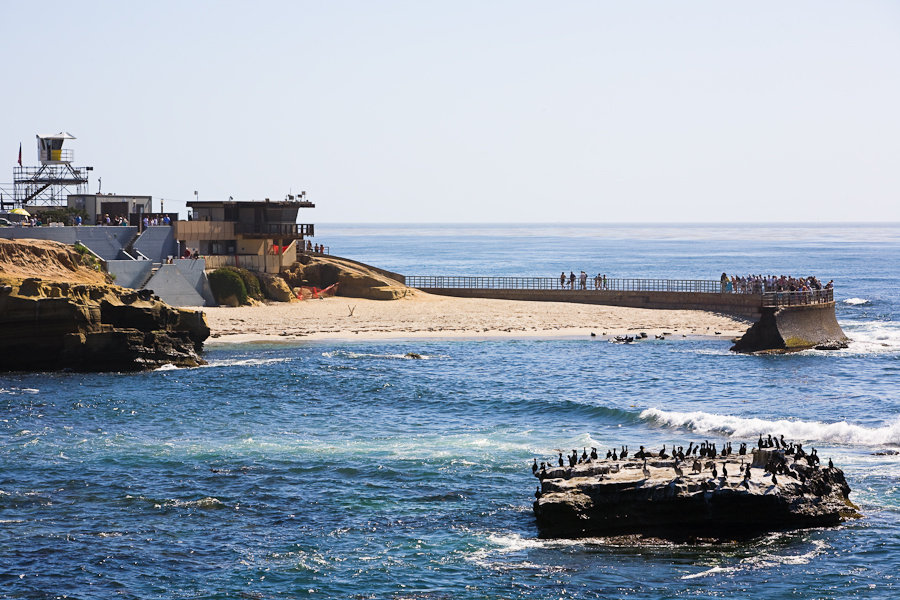 View from the seawall at Children's Pool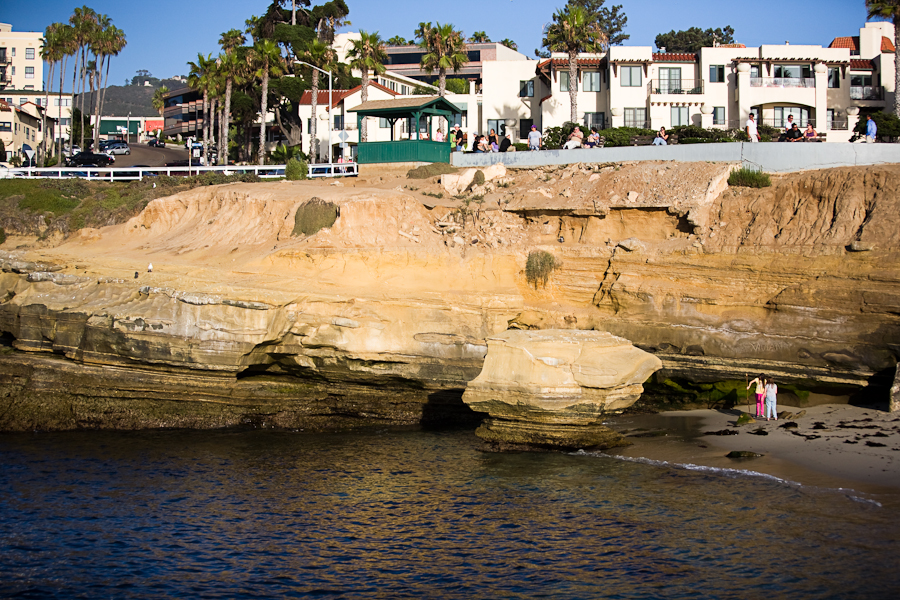 La Jolla Cove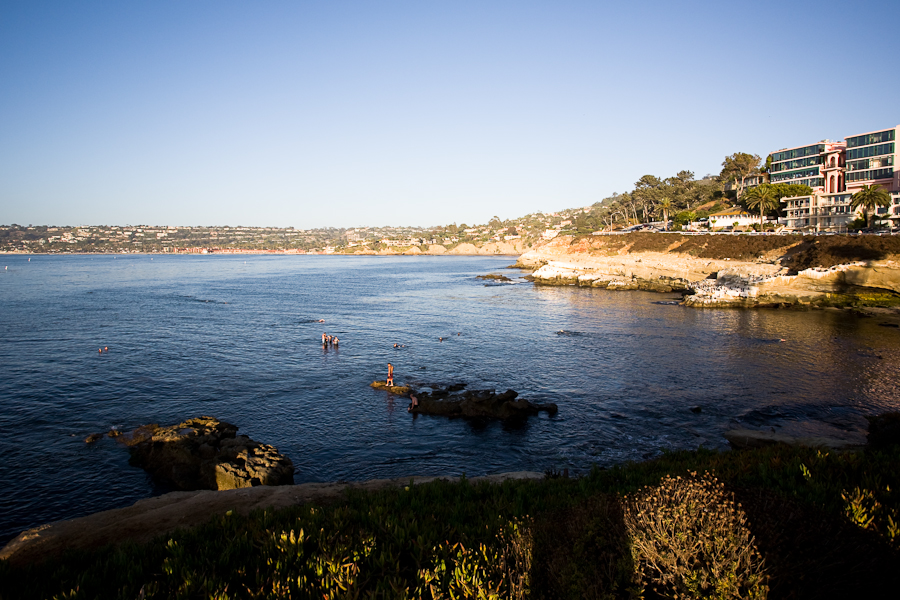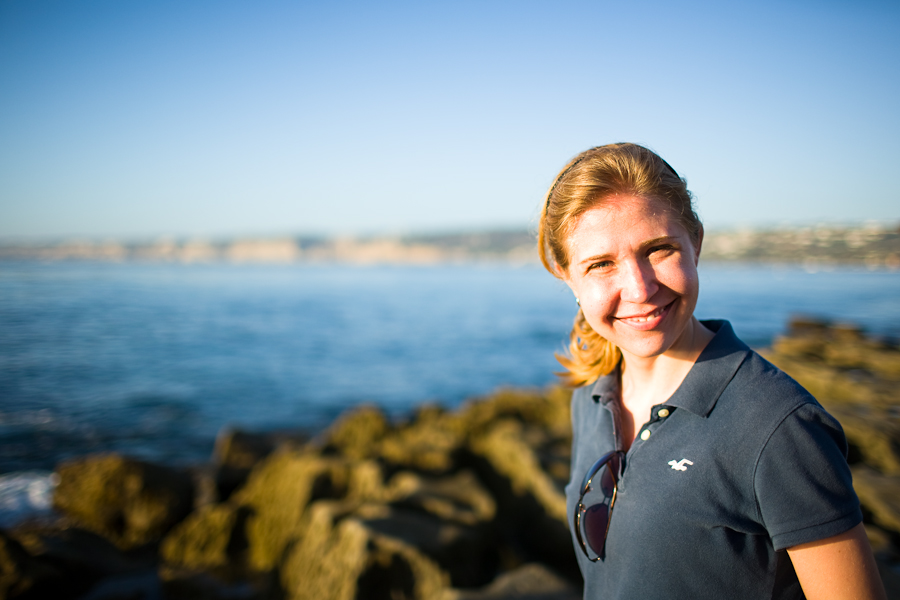 Rocks and Tidepools